Hello Everyone!
We're finally back for another review and giveaway for you all.... but more on that later. :) Let's start out with the review!!
Today we are reviewing "Bat Zion Apparel". Bat Zion was born out of a love for the Word of God and all things Israel. Countless hours are spent on working on each detail of their store of apparel-- from a vision within the creator's head, to a local artist, then to a graphic designer, and finally in your closet. :) Here's a little bit about the journey from Kristalena Sauls, the owner of "Bat Zion":
The journey of Bat Zion has brought untold frustration and an overwhelming sense of joy. I have met many new people who I now consider friends.




I hope you enjoy the visual beauty of Hebrew and notice the symbolic elements. My desire is that you see the passion poured into each design.
So onward with this review.... well this is going to be quite an easy review because Kristalena sent us several different shirts from "Bat Zion Apparel" and we love them!! Not only are they comfortable and cotton Ts, but they also have great designs. Here's some pictures of me demonstrating my inability to take what people call a "selfie"~ however this is a selfie within a mirror and is also probably my eighth try. Yes, for observant people- that's a tall in the background and hair products-- big sisters don't have a lot of time so they take selfies within mirrors at the same time as washing sibling's hair! But I'm getting off topic... :)
This particular shirt has a Metallic Silver print of a Menorah on it and in Hebrew it reads "במשך כימיו של עץ, כך שיהיו הימים עמי". Which in English is Isaiah 65:22 "For as the days of a tree, so shall be the days of My people."
Alright moving along... here's a size for little children! Isn't it adorable?? It's also such a pretty sky blue! There's also another child's shirt that comes in pink. I just love the sky blue with the silver printing on this one.
Ok, here's another shirt.... this one I took an unclose picture so you could see the Holy City printed on it. This is a men's shirt, but there also female versions and different colors to choose from!
This shirt obviously has a graphic of Jerusalem on it.... and it says: "בשערים של בתו של ציון, אני אשמח בישועתך". Now for those of you who are having a slight trouble reading the Hebrew script above. :) I'll translate for you: "In the gates of the Daughter of Zion, I will rejoice in Your Salvation." (Psalm 9:14).
Lastly, Kristalena sent me a few versions of this shirt below. It's says Tikvah on it which means Hope in Hebrew. I went ahead and snatched a picture of this shirt off her Etsy page since my iPhone photography skills went out the window on this.... :( Plus my picture was sideways and I couldn't figure out how to fix that on blogger... oh well! At least you can see the Hebrew Script really well on this photo!
This is also a men's shirt, but there are some options for children's shirts with this same design and lots of different colors to choose from.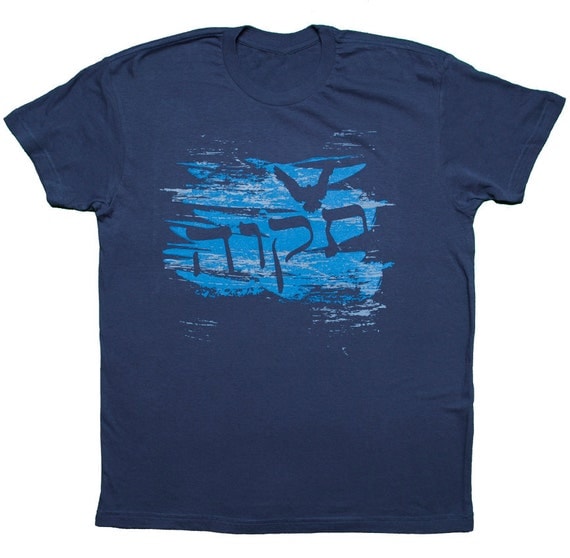 All in all I would give this company a A++! One of my favorites about "Bat Zion Apparel": The proceeds of "Bat Zion" products are donated to organizations that Love and Support Israel and His Chosen People. Isn't so neat? This is certainly a ministry/store to support! So go and check out their store: BatZion.net and maybe buy yourself or a friend a T-shirt to show your love and support for Israel.
And now drum rolls!! The giveaway that you've all been waiting for! :) Win a free T-shirt of your choice between Tikvah Navy T and Tikvah Grey T. Both shirts are mens and both are size L. This giveaway runs for one week!
a Rafflecopter giveaway
Lastly, I wanted to share the picture of the Holy City of some cards that Kristalena sent along with her review samples. They say to pray for the peace of Jerusalem on them. Thank you, Kristalena for doing this review with us and for making it possible! Thanks to our blog followers for reading.... and everyone~ pray for the peace of Jerusalem!
BatZion.net